Samsung Refrigerator Side by Side RS63R5561B4 Kulkas 3 Pintu - 689 Liter


Fitur:
SpaceMax Technology
Nett 634 L / Gross 689 L
All-arround Cooling
Digital Inverter Compressor
Movable ice maker

​
More fresh space inside, More seamless style outside
Simpan lebih banyak makanan dengan interior 689 liter * yang sangat luas. Teknologi SpaceMax ™ yang unik memungkinkan dinding menjadi lebih tipis karena menggunakan jumlah minimal isolasi efisiensi tinggi. Jadi itu menciptakan lebih banyak ruang penyimpanan tanpa meningkatkan dimensi eksternal atau mengurangi efisiensi energi.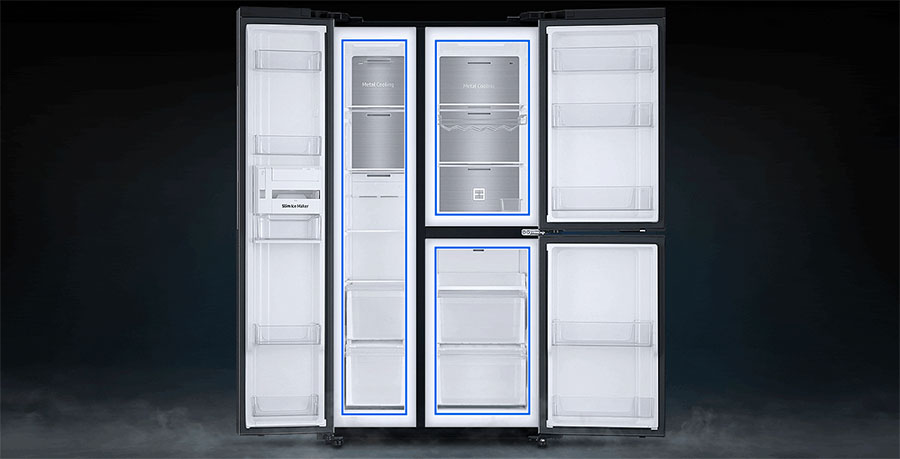 Always fresh food, wherever it is All-around Cooling

Pastikan semua makanan Anda didinginkan dengan benar - di mana pun makanan itu berada di dalam lemari es. Sistem Pendinginan All-around secara terus menerus memeriksa suhu dan mengeluarkan udara dingin. Itu mendinginkan kulkas secara merata dari sudut ke sudut, sehingga setiap item makanan tetap lebih segar lebih lama.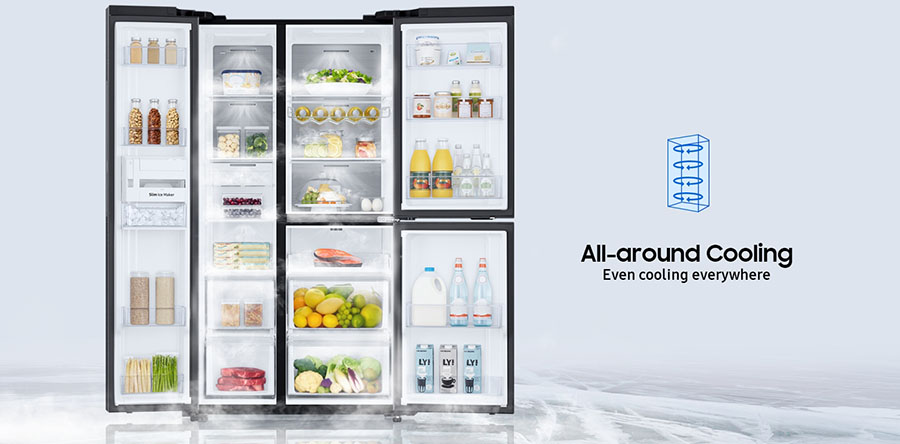 Last longer with up to 50% energy saving
Digital Inverter
Samsung Digital Inverter Compressor memakan lebih lama makanan Anda dengan penghematan energi hingga 50%, dan juga dapat terus bekerja selama 21 tahun terus menerus *. Secara otomatis menyesuaikan kecepatannya dalam menanggapi permintaan pendinginan, sehingga mengurangi keausan. Dan daya tahannya dijamin selama 10 tahun **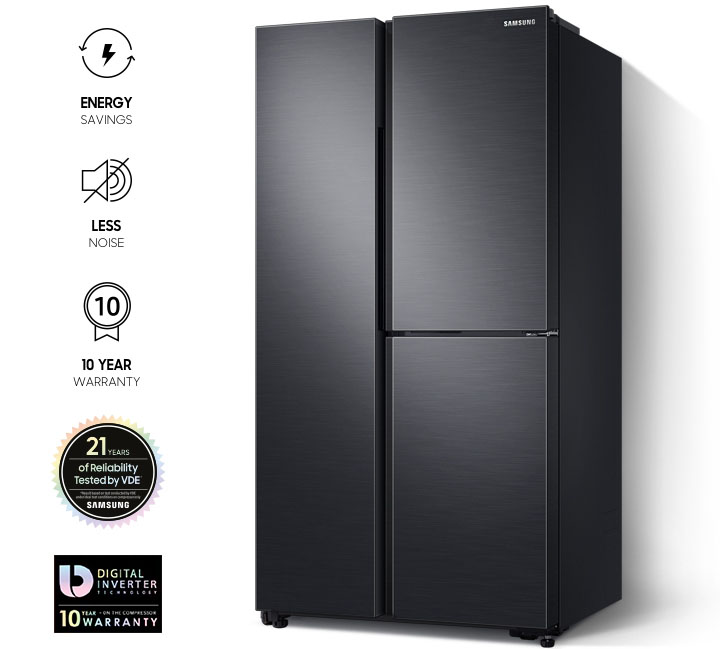 * Diberikan sertifikasi daya tahan 21 tahun oleh Asosiasi Teknologi Listrik, Elektronik & Informasi di Jerman (Verband Deutscher Elektrotechniker - VDE). ** Garansi 10 tahun hanya terbatas pada kompresor saja
Minimize cool air loss by 55%*
3 Door SBS
Simpan dan atur makanan Anda lebih efisien untuk kenyamanan terbaik. Kulkas 3 pintu, berdampingan (SBS) memiliki dua lemari es dan satu freezer. Dengan kulkas bagian atas dan bawahnya, meminimalkan hilangnya udara dingin hingga 55%, sehingga Anda dapat menghemat energi. Dan semuanya bisa dikelola dengan baik.

*Diuji oleh intertek ke metode pengujian internal Samsung. *Verifikasi pengurangan kehilangan udara dingin dicapai melalui tes konsumsi energi, ketika membuka pintu kulkas atas / bawah RS65R56 * 1 **, RS63R55 * 1 ** dibandingkan dengan pintu kulkas dari RS50N35 * 3 **, RS50N36 * 3 **.
Perfectly harmonious and stylish design
Sleek & Seamless Design
Berikan rumah Anda tampilan yang penuh gaya dan modern. Desain counter-depth yang ramping dan mulus akan sangat cocok dengan dimensi peralatan dan kabinet Anda yang ada untuk menciptakan interior dapur yang harmonis. Itu juga memiliki pintu datar yang indah dengan pegangan tersembunyi yang tidak menonjol.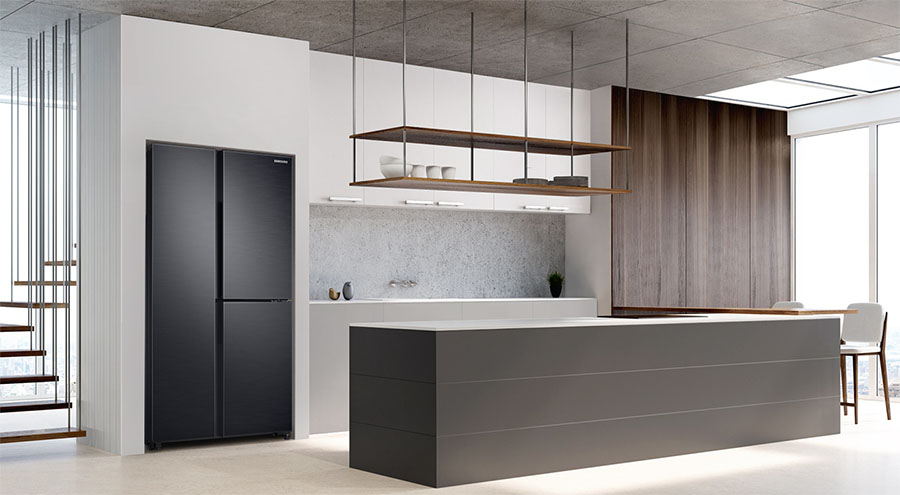 Easily find and reach food at the back
EZ Slide Shelf
Atur, masukkan, dan keluarkan makanan lebih mudah, sehingga tidak ada ruang kosong †, dengan rak EZ Slide. Itu dibangun di atas engsel bergulir dan hanya meluncur masuk dan keluar. Jadi Anda dapat dengan mudah menemukan dan mencapai hal-hal di belakang dan di sudut tanpa harus menavigasi melalui rintangan item.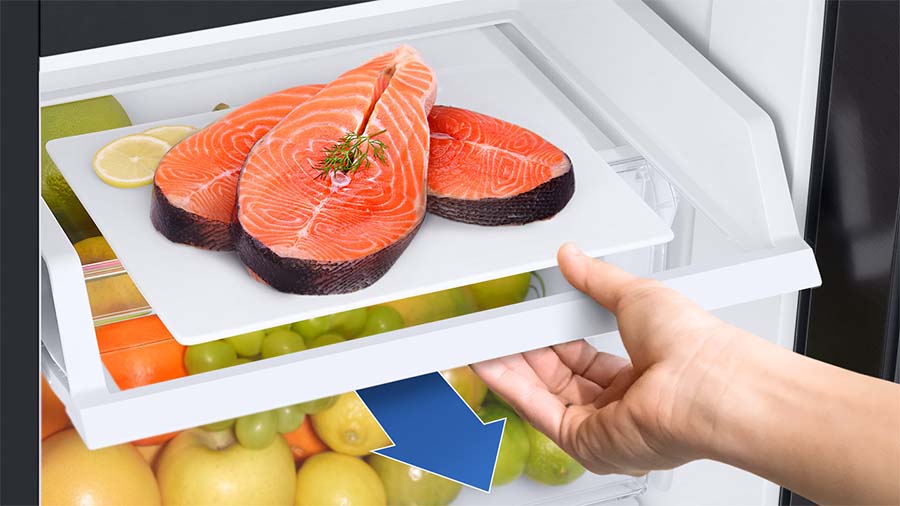 More ice, more freezer storage space
Slim Indoor IceMaker
Buat lebih banyak ruang untuk menyimpan lebih banyak makanan, tetapi masih memiliki es yang cukup dengan Pembuat Es Ramping *. Saat terpasang di pintu, ia memberi Anda penyimpanan ekstra dengan membebaskan ruang rak freezer, tetapi dapat membuat dan menyimpan banyak es. Dan penutup plastik transparan memungkinkan Anda dengan mudah melihat berapa banyak yang tersisa.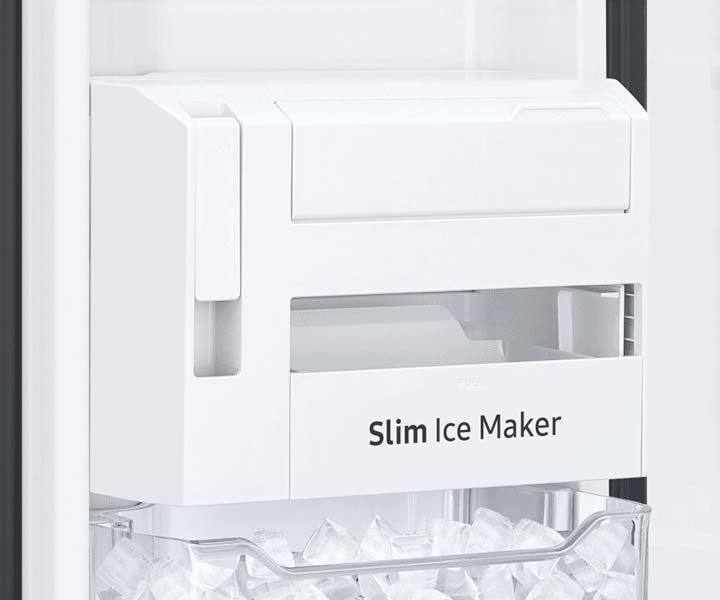 Neatly store more of your favorite wine
Wine Rack
Atur dan simpan lebih banyak anggur dengan rapi. Rak Anggur dirancang untuk menyimpan botol-botol anggur dengan aman, sehingga tidak berguling-guling dan mudah dijangkau. Dapat dipasang di kompartemen kulkas atas atau bawah. Jadi Anda dapat dengan mudah menikmati segelas anggur dingin nikmat kapan pun Anda suka.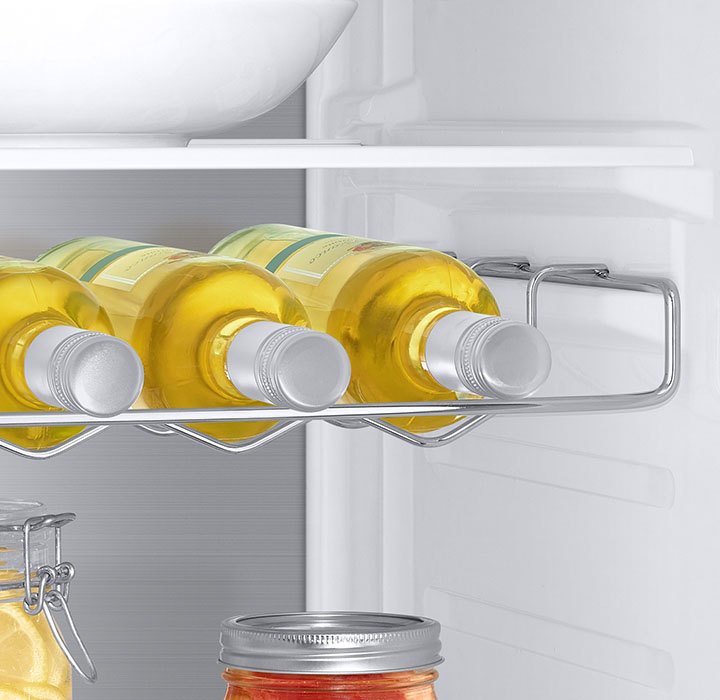 Easily store more vegetables & fruit
Vege Box
Kotak Vege berkapasitas besar menyediakan ruang yang nyaman untuk menyimpan sejumlah besar sayuran dan buah segar. Dan karena begitu besar, maka jauh lebih mudah untuk menemukan semuanya, karena semuanya ada di satu tempat dan mudah dijangkau, sehingga Anda dapat menikmatinya lebih sering tanpa menghabiskan ruang dapur yang berharga.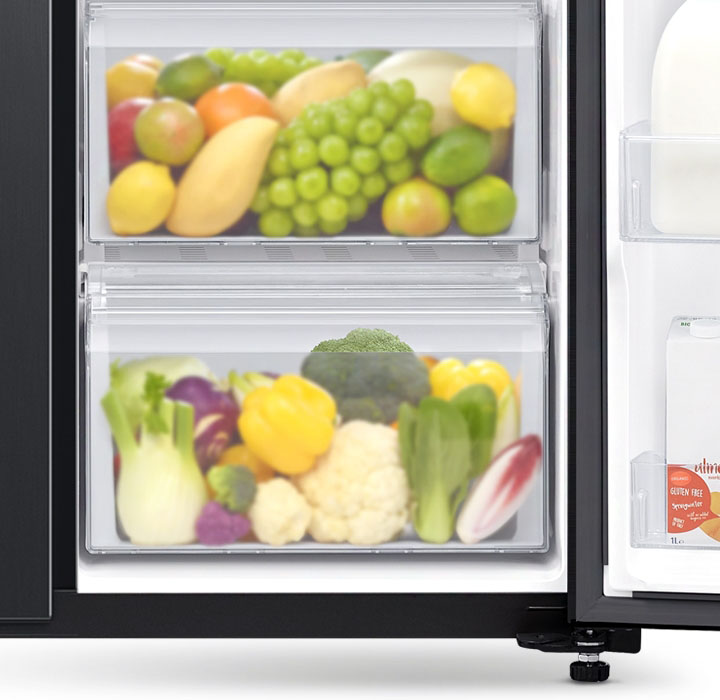 Odor eliminator maintains natural flavor
Jaga agar bagian dalam kulkas tidak berbau dan menjaga rasa asli dan aroma makanan lebih lama. Filter penghilang bau serat bawaan menghilangkan bau yang kuat karena udara terus menerus melewati filter karbon aktif. Jadi di sini tidak perlu solusi mengatasi bau lainnya.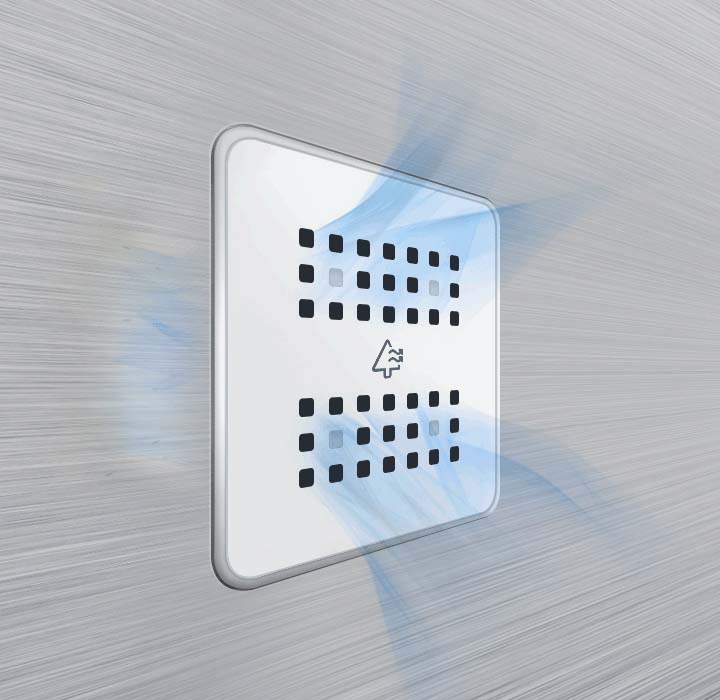 Refrigerator Features
Cooling System
Mono Cooling
Unit Dimensions (WxDxH)
(W x H x D): 912 mm x 1780 x 716 mm
Power Consumption
270 watt
Ice Maker
Manual Indoor I/M
Capacity
Capacity (liter)
Nett 634 L / Gross 689 L
Spesifikasi Fisik
Refrigerant
R600a