​Samsung Refrigerator RS-61R5001M9 Kulkas 700 Liter Side by Side dengan All-around Cooling
Fitur:
Gross

700 Liter / Nett 647 Liter
All-arround Cooling

Digital Inverter Compressor
More fresh space inside, More seamless style outside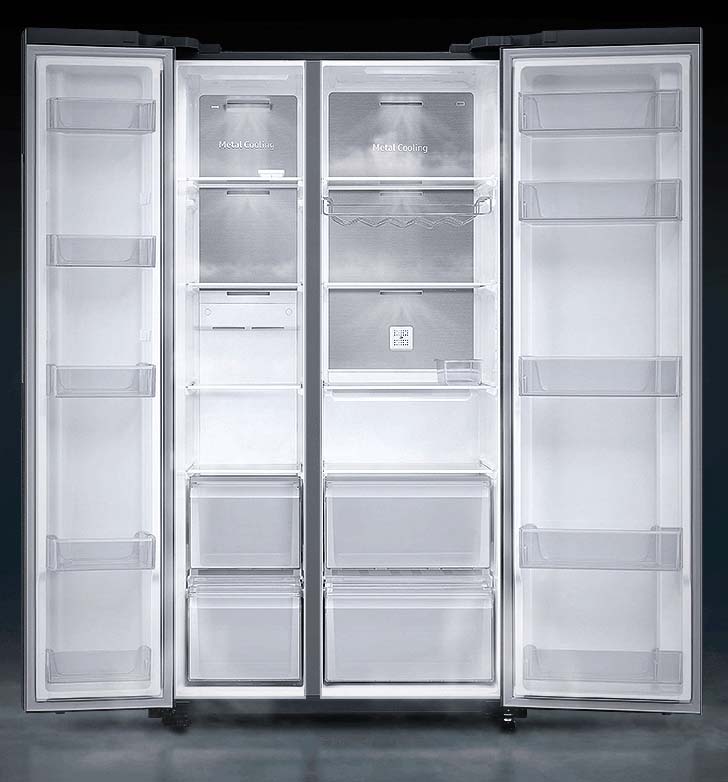 Simpan lebih banyak makanan dengan interior 700 liter * yang sangat luas. Teknologi SpaceMax ™ yang unik memungkinkan dinding menjadi lebih tipis karena menggunakan jumlah minimal isolasi efisiensi tinggi. Jadi itu menciptakan lebih banyak ruang penyimpanan tanpa meningkatkan dimensi eksternal atau mengurangi efisiensi energi.
Always fresh food, wherever it is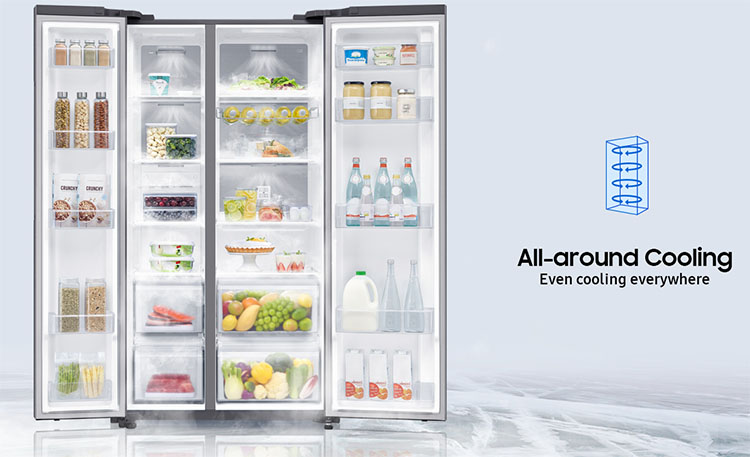 Pastikan semua makanan Anda didinginkan dengan benar - di mana pun makanan itu berada di dalam lemari es. Sistem Pendinginan All-around secara terus menerus memeriksa suhu dan mengeluarkan udara dingin. Itu mendinginkan kulkas secara merata dari sudut ke sudut, sehingga setiap item makanan tetap lebih segar lebih lama.
​
Last longer with up to 50% energy saving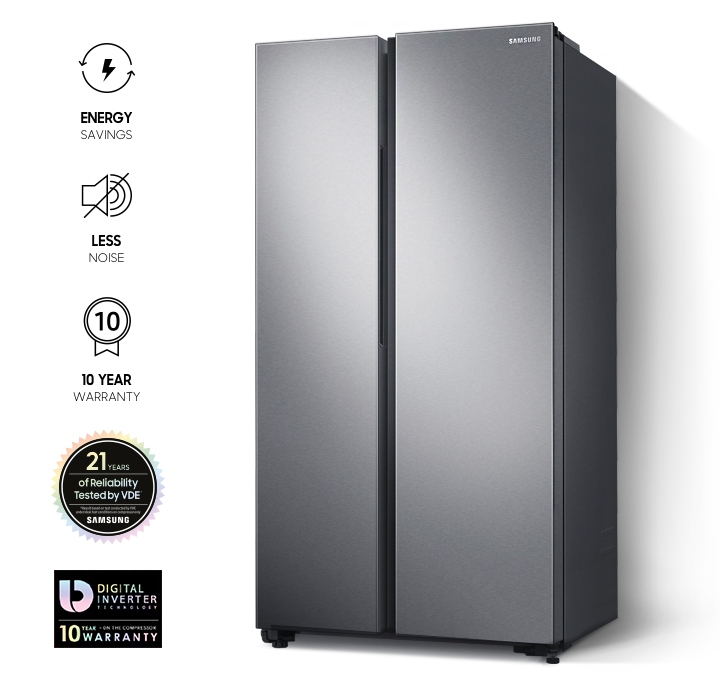 Samsung Digital Inverter Compressor memberikan ketahanan lebih lama pada makanan Anda dengan penghematan energi hingga 50%, dan juga dapat terus bekerja selama 21 tahun terus menerus *. Secara otomatis menyesuaikan kecepatannya dalam menanggapi permintaan pendinginan, sehingga mengurangi keausan. Dan daya tahannya dijamin selama 10 tahun **.
Perfectly harmonious and stylish design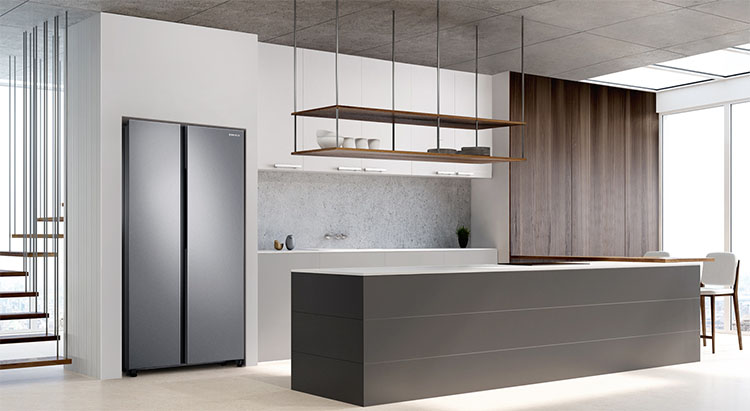 Berikan rumah Anda tampilan yang penuh gaya dan modern. Desain counter-depth yang ramping dan mulus akan sangat cocok dengan dimensi peralatan dan kabinet Anda yang ada untuk menciptakan interior dapur yang harmonis. Itu juga memiliki pintu datar yang indah dengan pegangan tersembunyi yang tidak menonjol.
Fast cooling and freezing on demand
Power Cool / Power Freeze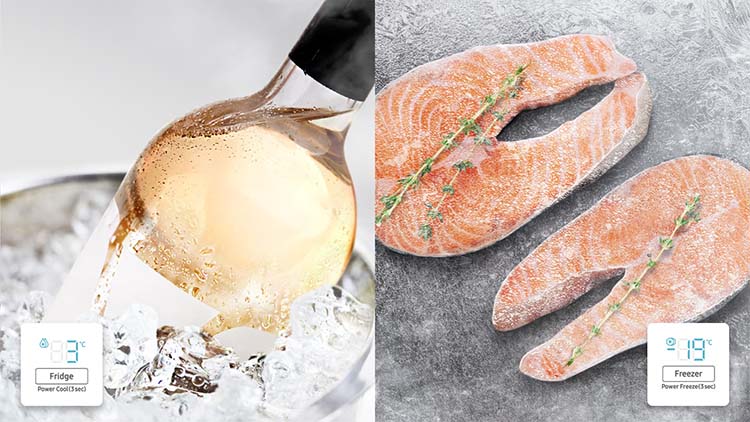 Nikmati kinerja pendinginan yang cepat. Dengan satu sentuhan tombol, Power Cool menghembuskan udara yang sangat dingin ke dalam lemari es untuk dengan cepat mendinginkan bahan makanan atau minuman favorit Anda. Dan Power Freeze menghembuskan udara dingin ke dalam freezer dengan cepat. Ini bagus untuk membekukan atau mengencangkan makanan beku dan membuat es.
Odor eliminator maintains natural flavor
Jaga agar bagian dalam kulkas tidak berbau dan menjaga rasa asli dan aroma makanan lebih lama. Filter penghilang bau serat bawaan menghilangkan bau yang kuat karena udara terus menerus melewati filter karbon aktif. Jadi di sini tidak perlu solusi mengatasi bau lainnya.
Easily store more vegetables & fruit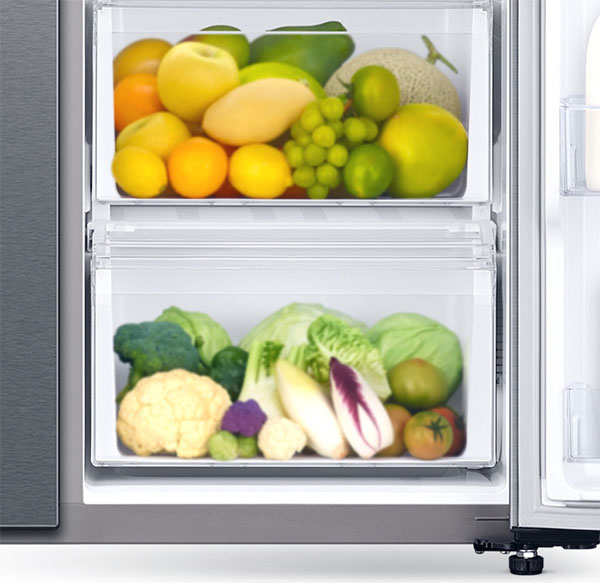 Kotak Sayuran berkapasitas besar menyediakan ruang yang nyaman untuk menyimpan sejumlah besar sayuran dan buah segar. Dan karena begitu besar, maka jauh lebih mudah untuk menemukan semuanya, karena semuanya ada di satu tempat dan mudah dijangkau, sehingga Anda dapat menikmatinya lebih sering tanpa menghabiskan ruang dapur yang berharga.
Refrigerator Features
Cooling System
all around cooling
Unit Dimensions (WxDxH)
91 x 71.5 x 178 cm
Power Consumption
270 watt
Power Source
220 V
Shelf/Tray
tempered glass tray